It is well known that kings never travel alone. They do not visit those spoiled and soiled parts of the world where the untrained, untruthful, and untrustworthy ways of people are encouraged. However, the King in our story is not like the others. He searches out wretched people and pulls them out of their misery.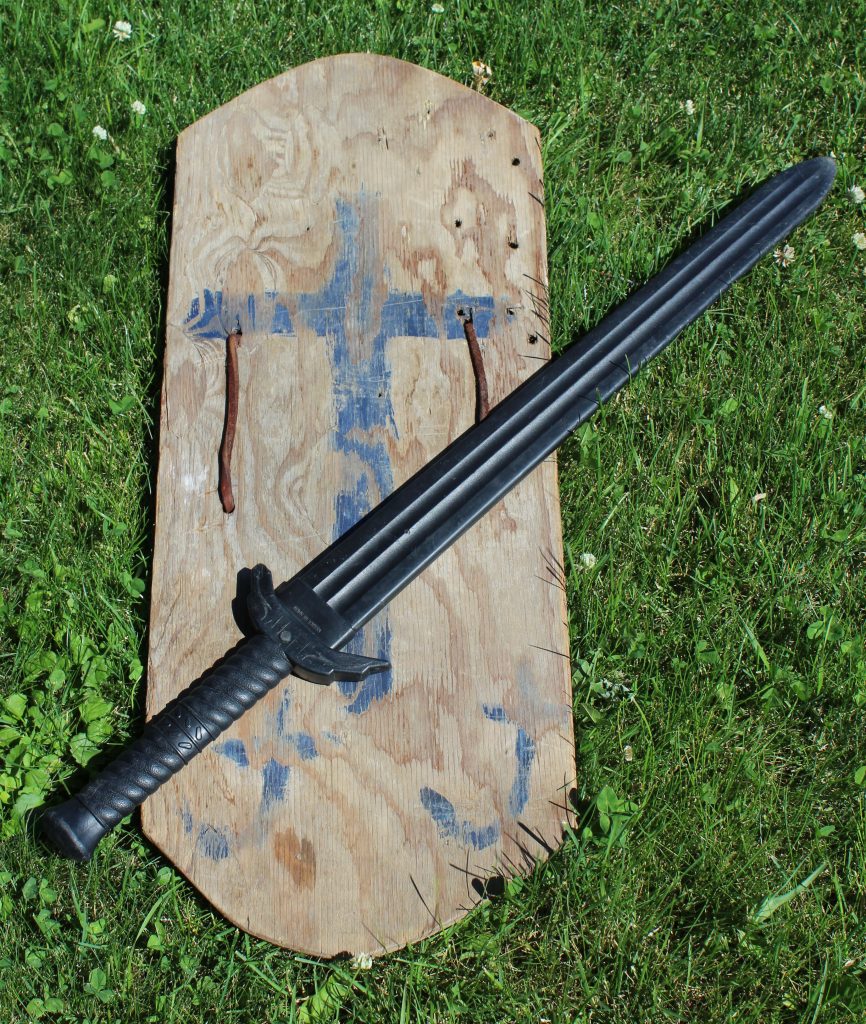 One day while he was searching, the King found a boy curled into a tipped-over trash can. Only his feet were visible, but his crying could be heard. The King bent down and pulled him out by his filthy, soil-stained legs. He stood the boy in front of him. Then kneeling in the muck of the alley, he took his handkerchief and began wiping the boy clean of dirt and grime.
"That's better," the King said when he had wiped away most of the dirt. "Why are you hiding in a half-filled trash can in this horrible place?"
"I'm lonely," the boy responded simply.
"Where do you live?" asked the King. "Usually in a trash can; sometimes in a box. I don't belong to anyone," responded the boy.
With great love, the King said, "If you choose, you are now my son; my Prince. You will live with me in my kingdom. You will have all the love, joy, and freedom that comes with being one of my children." The boy agreed, so the King took the Prince home and provided a special place for him. He trained him in the correct and true ways of his kingdom.
The newly adopted Prince soon discovered the King adopted everyone in the kingdom. The King said "Everyone is special because I say so. Their worth does not depend on who they are, or what they do, but just because they exist."
It was great having so many people in his family, and what made it more exciting was the King adopted new people every day. As a result, the kingdom kept growing and growing. The prince was a very loving and giving young man. He truly loved people and loved to talk to anyone, so having a growing family was great fun for him. One activity that gave him much pleasure was to give presents and special notes to people. Not only on special occasions but just because he thought of it. He also loved to play games and help his family and others. This Prince also loved stories. He loved to read them, but he especially loved to hear them.
Every day the Prince would visit his favorite Imagining Place. His Imagining Place was where he could dream and imagine all the lovely and brave things he wanted to do someday and remember the story of his adoption.
One day, while in his Imagining Place, he heard a story but couldn't see the speaker. Since he loved stories so much, he didn't bother to think about where the story came from or the message it contained. And, since he listened, the speaker returned again, and again. Each time the speaker became bolder and showed a bit more of himself. The Prince ignored the fact that the stories didn't quite line up with the stories he knew were true, for the stories pleased him, and he just wanted to hear more. As time went on, the Prince came to rely on the stories and forgot how to imagine. He forgot the story about who he was and forgot all about the lovely and brave things he wanted to do.
The stories seemed innocent at first, but were cleverly retraining the Prince's mind and capturing his heart. Bit by bit, the story-teller gained the Prince's attention and confidence. And, gradually, ever so gradually, the story-teller changed little details in the stories. Details which at first seemed to make no difference, but eventually those changes worked into the Prince's brain and heart.
He quit talking to people. He never wanted to give gifts, unless he could think of a way to get attention out of it. Playing games was no longer fun. Helping his family was a bother and interrupted his time. The time he felt was his time to do what he wanted.
The Prince began to feel differently about the people and world around him. He thought they had changed. The world was not such a nice place. He began to question the rules his father taught him. He thought his siblings hated him, and maybe his father didn't truly love him. And, he felt sure no one loved him or even liked him.
Whenever someone gave him a suggestion or pointed out an easier way to do something, he thought they were trying to tell him what to do and bossing him around. He felt no one wanted him around, and he resented working for the benefit of the family. And, he was only happy for the short time he managed to do what he wanted in the exact way he wanted. He felt like the only solution was to leave. If he lived by himself or with some other family, then everything would be okay again, and his problems would be over.
His father tried over and over to find time just for him. But the Prince always found a way out. He would complain about what they were doing and want to do something else. If they changed and did what he wanted, he would then want something still different. Nothing his father did for him was ever good enough for him.
His family tried over and over to help him; they worried about him. No matter how hard they tried to help, he couldn't even feel their love anymore. The Prince felt they were picking on him when, in reality, they were trying to find something to do with him. He felt everyone was invading his space, but he was so paranoid about what might happen, that he assumed they were trying to mess up his work. He thought they wanted to mess with his life instead of just trying to be a part of it.
As the stories continued, the Prince became irritable and grumpy. He couldn't speak to anyone without nasty thoughts and words coming out of his mouth. The Prince argued with everyone even when they tried to reason with him. They tried desperately to break through the hard shell he was creating around himself, but the Prince would just find another argument and another reason for why it was their fault and problem.
Even though the prince never told anyone about his stories, his father knew the source of the problem. He knew that the problem was coming from Deceiver, for this was the name of the storyteller. Deceiver had been the enemy of the kingdom a long time. He had tried many, times to cause problems in the kingdom with other members of the family. Sometimes, Deceiver won and destroyed members of the family. And, sometimes, he just made enough mischief to keep them from really being themselves.
Very early one day, his father came to Imagining Place and waited. He was sad at the changes he saw. Imagining Place was no longer bright and beautiful. It was musty, foggy, and dark. But he knew the Prince would come, and then Deceiver would come. Partway into the morning, the Prince arrived. Not in his jolly, play-along-the-way fashion he used to use, but almost slinking and silent. He kept looking around like he was afraid of being followed. Though he couldn't say what was wrong, deep down he knew he shouldn't listen to the stories.
Once he arrived, he sat down with a sad expression on his face and did nothing, because he was no longer happy. His father ached to hold him and make his world right again but knew he had to wait. After a while, Deceiver came, and he was not slinking, nor was he silent. Accustomed to coming here and never meeting resistance, Deceiver entered boldly.
Deceiver sidled up near the Prince and began another story. This time, however, was different. As he warmed up to another story, blinding light flooded the area. The Prince looked up; his mind startled awake. He saw his father, then looked at the storyteller for the first time. The Prince had never seen Deceiver in the brightness of the King's light. He was shocked at how ugly and dark he looked.
In the King's light, Imagining Place was a bright, beautiful, happy-looking place once again, and the contrast between his father and Deceiver was strong. Deceiver left, slinking away this time. The Prince hugged his father. Then sitting in the King's lap, the Prince heard his father tell again the story of his adoption. His father explained how the Prince would need to fight Deceiver. "Deceiver will come back," he said, "and you will need to remind Deceiver to leave and retrain your mind to listen only to the true stories."
It was not easy. At first, the Prince often forgot. But as he practiced saying "no" to the lies, he changed. He learned to listen to the true stories about who he is, and reread the true stories from his father. The Prince listened again to his own story. He learned to trust his father again. His mind and heart took some time to heal, but the Prince now knew his father loved him. The fact that he did not need anything besides his father's love became real to him. And he found the true stories were enough. The Prince knew his father's love, and he learned how those around him were also helpful and loving.
Another important discovery came out of the change in Imagining Place. He found a new dream: The desire to share his story and how his father truly loved everyone and wanted to adopt them. The Prince found he did not need to wait on this dream. He began right away to tell all who would listen, the true stories of the King. The Prince told them that his father would adopt them. He also told how their worth did not depend on who they are, or what they do, but just because they exist.
As the prince grew, he continued to learn to follow in his father's ways and to seek the true stories. Seeking true stories and ways became his favorite game. He called it, "Seeking King's Ways." And he never tired of learning to seek and follow those ways.