Somewhere over the course of last winter, my body was healing and my mind waking up. However, I didn't realize how much this was happening until February (the 9th) when we had a blizzard. The next day, I was able to go out, wade through snow, take pictures, and just enjoy being out. I wasn't too cold or winded. I was amazed at how much I could do and wondering "when did this happen?". "When did I begin to feel better?"
Not long after this, while I was reading in my Bible, these verses jumped out at me.
See! The winter is past; the rains are over and gone.
 Flowers appear on the earth;
 the season of singing has come.
 Song of Solomon 2:12a (NIV)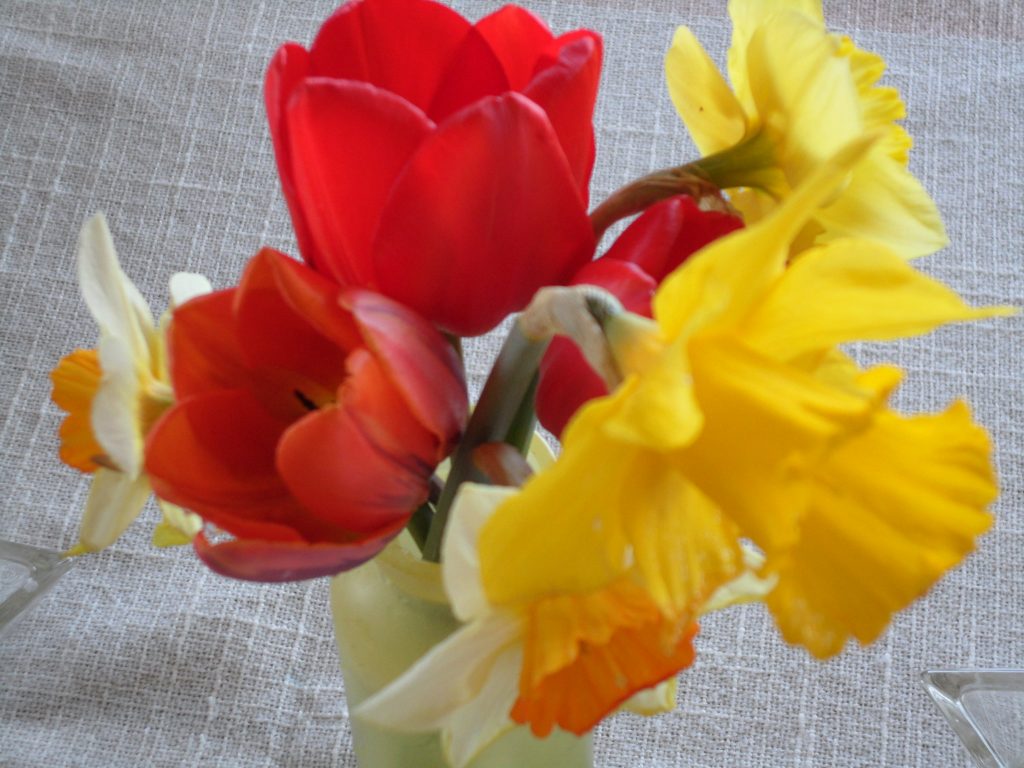 As I read this, my mind and heart said YES! ….The winter is past…the season of singing has come. It still makes me rejoice and want to do a happy dance. A similar verse is Isaiah 35:1 (ESV)
The wilderness and the dry land shall be glad; 
the desert shall rejoice and blossom like the crocus.
What is the season of singing?
I have continued to think about the "season of singing". What is it? This list shows some of the progression of my thoughts.
Singing
Rejoicing
Exultation
Worship
The Season of Singing seems like a time of joy and gladness; a time of rejoicing. Maybe, we have come from a dark place to one of light. Or perhaps, even a mountaintop experience. But, how long does it last? And, can we keep that "season"? Because, after all, who wants to be all gloomy and miserable.
While I was not entirely gloomy over the last several years. At the same time, I can't say I was joyful. It was more like I was trudging (plodding comes to mind) from one step to the next, rather tired and foggy in the head and just trying to keep going and get ahold on the health problems I was still fighting while keeping up with the house and kids.
We can keep the "season for singing" though. Even when we are tired, or foggy in the head, or need to just keep going. Primarily, we can keep it through everyday worship.
First, let's look at a couple of definitions.
Exultation – a feeling of triumphant elation or jubilation; rejoicing.
  As a side note, did you know God exults over you?  
Zephaniah 3:17 (ESV)
The Lord your God is in your midst,
a mighty one who will save;
he will rejoice over you with gladness;
he will quiet you by his love;
he will exult over you with loud singing.
Worship – the feeling or expression of reverence and adoration for a deity
or to show reverence and adoration for a deity.
Synonyms include reverence, honor, adoration, praise.
What is "everyday worship"?
So, what is "everyday worship"? Firstly, we need to change our image/definition of worship. We tend to think of or at least refer to worship as the music we sing on Sunday morning or possibly the entire service. However, EVERYTHING we do is worship.
When we worship, we are responding with our heart and mind. Worship is ascribing worth to something or someone. God designed us to worship. You could say it's part of our DNA. We can't help it, and can't we stop it.
Consequently, if we are not worshiping Christ, then we are worshiping idols. Anything that takes God's place is an idol. Stop! Let that sink in for a moment.
Anything that takes God's place is an idol.
Now, since we cannot stop worshipping, we have to take care that we are worshipping God. So, what does your heart respond to? Does it respond to Christ?
Stay tuned for part 2 and part 3, meanwhile contemplate how you respond to Christ.